/

/

'People are understanding once you explain': Woodlands teen speaks out as ambassador for Tourette Association
'People are understanding once you explain': Woodlands teen speaks out as ambassador for Tourette Association
THE WOODLANDS, Texas -- Aidan Masterson, 15, is in San Antonio this summer training to be an ambassador for the Tourette Association of America.
"You get to talk to media, you get to talk in school sometimes, basically you just get to talk to people, which is important because a lot of people don't understand or know what it is," Aidan said. "I want to educate people so they have an understanding of it."
Tourette syndrome is a neurodevelopmental disorder characterized by motor and vocal tics.
The Tourette Association of America's mission is to provide help, hope and a supportive community; advocate for public policies that promote positive outcomes, raise awareness and foster social acceptance.
"Some people want to be mean to you, but for the most part, people are pretty understanding once you explain what it really is," Aidan said. "It opens their eyes, and they stop making jokes or whatever. They get it from that point on."
Aidan was diagnosed with Tourette syndrome when he was 4-years old.
"I knew there was something different about him since age 2," said Aidan's mother Donica Masterson. "It started with repetitive eye-blinking, shoulder shrugging, sniffling or snorting, and sometimes vocal tics. I was very persistent in seeking out every resource I could find until I found someone who would really listen to me."
Donica said the diagnosis was somewhat of a relief.
"Obviously no parent wants to hear that their child has something 'wrong'," she said. "We immediately began different therapeutic programs with him, everything from speech therapy to occupational therapy to play therapy. He's been doing all of those things since age 4. I strongly believe that early intervention has helped him."
Tourette syndrome has a very broad spectrum in terms of how it manifests, Donica said, and in Aidan's case, it's changed over the years.
"He has been able to manage the symptoms," she said. "He's able to suppress the tics in many cases, to where unless I told you he had Tourette's, most would never know it. If people see him doing something on a repetitive basis, they may ask 'why do you keep doing that?' His standard answer since he's been a kid is 'it's just the way God made me.'"
Aidan said he's simply never known another life.
"I know my parents told me right after (the diagnosis), so I kind of have always known it," he said. "The only time it was a big deal to me is when I was 11, because that's when it flared up, but other than that it's gone away sometimes to the point where I even forget I have it. It's gotten a lot easier, but I've never questioned it because as long as I can remember, I've known about it."
Aidan's Tourette's diagnosis eventually led to additional comorbid disorders, including Asperger syndrome, Attention Deficit Hyperactivity Disorder (ADHD) and Obsessive Compulsive Disorder (OCD), but he's discovered talents that help him manage his symptoms.
He is a competing member of the World Cube Association, which solves "twisty puzzles" such as the Rubik's Cube; he's a member of the Civil Air Patrol at Hooks Airport in Spring, he is a musician of sorts beginning with clarinet in fifth grade and now the drums. Aidan formerly attended The Woodlands High School, but this fall will attend the Academy for Careers in Engineering & Science at Oak Ridge High School.
"I'd love to be a drummer, but I'm not sure yet," Aidan said. "I'll probably do something in engineering. I just know that I don't like to sit down and do paperwork. I need something more active."
Donica said Aidan taught himself to play the drums.
"There tends to be a connection between playing drums and math, so I think that's why he enjoys it so much," she said. "When he's drumming, he doesn't have tics from his Tourette's."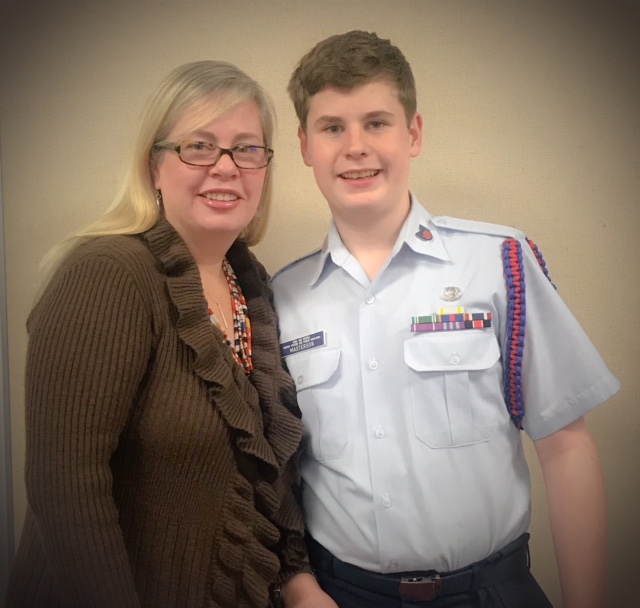 Civil Air Patrol at Hooks Airport, Spring
Donica said Aidan is your basic 15-year-old teenage boy, which means mother and son clash on occasion. But Aidan is thankful for her love and support.
"She's done a great job with all of this," he said, "especially because she doesn't have any of it. The thing that really gets me is, she does so well. We have different personalities, yet she still gets it. It's pretty amazing."